We have enhanced our portfolio of Anti-Bacterial Hygiene & Cleaning Products to support our customers' fight to combat COVID-19.
The I LOVE Professional range now includes 70% w/w Hand Sanitiser, Anti-Bacterial Hand Wash, Moisturising Hand Lotion & Antiseptic Disinfectant all available in a variety of pack formats.
All our products are Made in the UK to the highest quality and have all been tested and approved to EN1276 standards.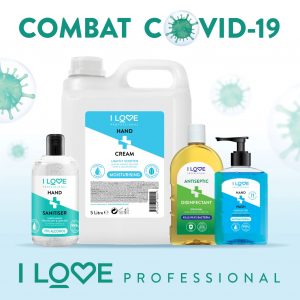 Competitive prices and stock are available.
Please contact the team to find out more;
Email us at sales@ilove.eu.com
Call us on +44 (0)1772 802077.