Expac's superior Hand Sanitiser formulation is the perfect product to help in the fight against Covid-19 and is immediately available with either your brand name or Expac's brand name on the pack.
Our superb formula contains 70% alcohol to sanitise and is fully certified to both BS EN1276 & EN1500 to give your customers the greatest confidence that it is also proven to kill 99.99% of bacteria.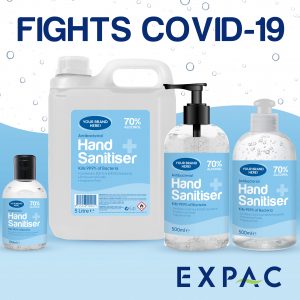 Select your preferred packaging formats from our range, provide us with your artwork and our team will bring your products to life in no time at all at our UK manufacturing facility!
Get in touch to see how easy it can be:
Email: hello@expac.co.uk
Call us on: +44 (0)1772 453925