Scent specialists, I Love Cosmetics, have announced the launch of its brand new Signature Scent Collection across its bath and body range. This new fragrance line up showcases a change of direction & strategy for the North West based bath & body brand, with a new logo, product offering & design direction across the portfolio. 
I Love Cosmetics, which launched in the UK in 2009, and has become an internationally recognised beauty brand, has evolved its range of scents to include new, more sophisticated flavour combinations to attract a wider audience, complementing the traditional fruit & sweet flavours that made the brand famous.
The new I LOVE branding & Signature Scented Collection launched online on Wednesday 18th July. UK & EU residents will be able to shop the new fragrance range, which includes Elderflower Fizz, Vanilla Milk, English Rose, Violet Dreams, Glazed Raspberry and Exotic Fruits, via I Love Cosmetics' ecommerce website (www.ilovecosmetics.co.uk).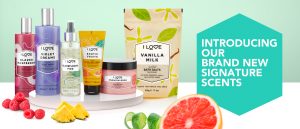 This new Collection includes fragranced body washes and body mists (priced at £6.50), vibrant bath salts (priced at £8), a selection of luxurious body butters (priced at £12) and a brand new hand and nail cream (£5) which will all be available in the six Signature Scents. This indulgent range of beautifully scented products were all designed, developed and manufactured in the UK.
I LOVE's original sweet and fruit flavoured favourites will remain as part of the collection, whilst these new Signature Scents will offer consumers the chance to try something a little different, with fresh, floral & gourmand fragrances on offer.
James Brown (MD & Founder) commented: "We are so excited to bring our six new Signature Scents and our new brand identity to market. Fragrance is our passion and is at the heart of everything we do at I Love Cosmetics."
"We have got a loyal fanbase for our original I LOVE product offering and we wanted to develop a more sophisticated scent range that reflects the growing fragrance palettes of our existing fans, as well as attracting new audiences by branching out in this way.
"There really is something for everyone, from your little sister through to your best friend, mum, aunty or grandma. As well as the new Signature Scents, our expanded portfolio of body washes, bath salts, body butters, hand and nail creams and the soon-to-launch candles and reed diffusers will appeal to a wide range of people looking for high quality scented products. This new brand direction is the first step in evolving the I LOVE brand into additional categories across personal care & lifestyle products"

To complement the initial Signature Collection I LOVE will also stretch its product portfolio into home fragrance. Signature Scented candles and reed diffusers will launch September 2018 just in time for Christmas; the perfect gift for someone you love. These will be accompanied by a range of beautifully packaged gift packs including; mini pamper packs, hand and body duo gifts & a Signature Scented body wash gift.
All of I LOVE's products have competitive natural claims; they are all paraben free, vegan friendly and vibrantly packaged to reflect the fun and unique scent combinations. I LOVE's scents are all exclusive to the brand and have been developed in the UK using experienced fragrance houses.