Libra Speciality Chemicals are delighted to announce that we have won the GSK Innovation award 2022 at the recent Chemical Industry Awards! We were overjoyed to see that the industry professionals are once again recognising our ever-growing success!
Dr Rob Wiles Technical Director states "Thrilled to accept the innovation award on behalf of an outstanding engineering team. I'm overwhelmed that our efforts are being noticed and that we are being praised for our hard work we put into Libra. Here's to to more growth and more awards, this is just the beginning… ".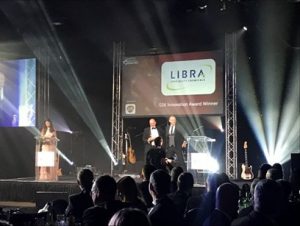 For more information about CIA awards 2022, and the quality products that we offer please visit our website or get in touch with a member of our team.
Tel: +44 161 775 1888
Email: sales@librachem.co.uk
Web: www.librachem.co.uk