Last week saw the exciting development of Biesterfeld's 'Happiness in a Box' Personal Care collection. To celebrate this, Libra were kindly sent a giftbox containing a variety of the high-quality Personal Care products that they have developed.
Our product LibraCare APG 1214, also known as Lauryl Glucoside, has been used in both the 'Sleep and Care' night cream as well as the 'Smoothie Shower' shower gel. Both these products are EO free and promote healthy skin.
LibraCare APG 1214 has exceptionally good wetting, dispersing and emulsification properties. The low toxicity, low irritation to skin and biodegradability of LibraCare APG 1214 means it is widely used in the Personal Care industry. Furthermore, LibraCare APG 1214 is extremely versatile and is compatible with a wide range of surfactants making it suitable for a variety of Personal Care products.
Biesterfeld have been distributing Libra Speciality Chemicals' products in selected European countries for several years. Throughout this partnership, Biesterfeld have professionally and efficiently serviced their customers with our products. We would like to take this opportunity to thank them for their continued support and we look forward to working with them for many years to come!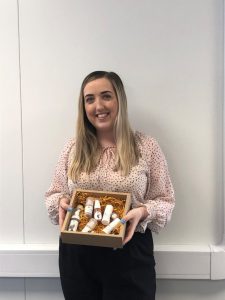 (Photo caption) Anna Holroyd, our International Sales Manager, with the Biesterfeld 'Happiness in a Box' collection.
If you have any questions about LibraCare APG 1214 or any of our other products suitable for Personal Care, please get in touch with a member of our sales team.
Tel: +44 161 775 1888
Email: sales@librachem.co.uk
Web: www.librachem.co.uk
Why not follow us on social media
LinkedIn: www.linkedin.com/company/libra-chemicals
Twitter: www.twitter.com/LibraChem