Libra Speciality Chemicals are delighted to announce that we have won the Manufacturing Company of the Year Award 2022 at the recent Chemicals Northwest Awards! We were overjoyed to see that the industry professionals are once again recognising our ever-growing success!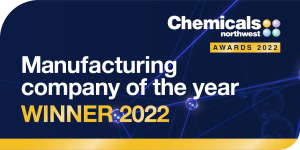 Even in times of high uncertainty, due to the COVID-19 pandemic, we have bucked the industry trend and continued to invest heavily in new technology, process plant and people to support and sustain our continued growth. Our new multi-million pound Libra-designed 32,000tpa betaine plant was brought online during 2020 and has exceeded all expectations during both 2020 and 2021. The output from this plant is now running at >25,000tpa. This is from a zero position at start up just 2 years ago.
To keep pace with incoming contracts from customers all over the globe, we have now greatly enhanced the betaine plant with another multi-million pound investment to expand the capacity to >52,000tpa by adding a further two large reactors, and added an additional tank farm of >100,000 litres storage capacity. Importantly, this plant is AI controlled, another Libra innovation, and only requires one operator to fully function. This plant gives Libra the very best quality and lowest cost position for betaine, and allows us to service our customers around the World.
In addition during 2021/2 we have developed and installed a flagship, high-tech multistage membrane system to manufacture >22,000tpa "green" LOW SALT BETAINE surfactants, also fully driven by our AI operating system. This plant desalts, refines and polishes the betaines to make truly exceptional products. Libra's low salt betaines are derived from natural, sustainable raw materials and are very environmentally friendly. The Libra-innovated process results in zero effluent and the new installation has already received "green" industrial accolades for its design, low resource utilisation and sustainability principles.
Libra's low salt betaines make exceptional primary surfactants, allowing innovative sulphate-free formulations to become the norm. They have rapidly attracted the attention of major multinationals, contract manufacturers and brand owners, and we are already shipping to customers' plants in both Europe and the USA.
Libra's large capital projects have delivered a 32% increase in the last 2 years and are on track to deliver another 35% in 2022. The last 4 years at Libra have seen a dramatic 78% increase in business.
The outlook for Libra is incredibly exciting, and we have yet more new technology projects in the pipeline for the coming years. Our ties with global market players continues to strengthen, with several strategic collaborations already in place. The world expects chemicals to be "green" in nature, produced from sustainable feedstocks, and using resource friendly processes. Libra's investments recognise and embrace these principles.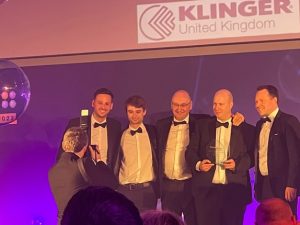 For more information about Chemicals Northwest Awards 2022, and the quality products that we offer please visit our website or get in touch with a member of our team.
Tel: +44 161 775 1888
Email: sales@librachem.co.uk
Web: www.librachem.co.uk