Libra Speciality Chemicals are continuing to supply essential cleansing ingredients for soap and hygiene products to help in the fight against Coronavirus Covid-19.
Librateric Betaines (CAPB) are used in handwash formulations and offer very effective cleansing. Betaines are also mild to the skin and show much lower irritancy than most other surfactants. This allows regular effective handwashing with less skin irritation and skin cracking. This is particularly useful today when you require repeated handwashing to ensure clean and infection free hands. Betaine based handwash is a perfect choice as a first line defence for keeping people safe from coronavirus.
Libratex Sulphosuccinates are used in many Personal Care applications, particularly as cleaning and foaming agents. They exhibit low irritancy and can offer great cleaning solutions when used in conjunction with Libra's Betaines or Amine Oxides.
Libraquat PQ7 can be used in all betaine and amine oxide based handwash formulations to give enhanced cleaning together with effective skin conditioning. Conditioning and skin feel are particularly important when regular and repeated handwashing is required and when skin can easily become dry and chaffed. Libraquat PQ7 will leave a soft skin feel post handwashing.
Libratex SLES ethoxylated alcohol sulphates are a tried and trusted component of most cleaning formulations. They exhibit great surface cleaning characteristics, especially when coupled with betaine. They offer excellent foaming and are easy and quick to formulate with, making them highly suitable for cleansing applications.
Libranox Amine Oxides are excellent detergents, foam boosters and foam stabilisers and can be used in formulations to provide viscosity, grease emulsification and soil suspension. Anime oxides are used in HI&I and personal care cleaning applications.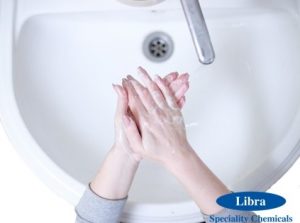 Libra also offer a flexible and confidential contract manufacturing service for a broad range of materials that are used in personal, household, industrial and institutional cleaning products. We are here to support you if you are looking for additional manufacturing capacity for your cleaning and hygiene formulations. Please contact us at sales@librachem.co.uk or Tel: +44 (0)161 775 1888
For more advice about Coronavirus Covid-19 visit: https://www.nhs.uk/conditions/coronavirus-covid-19/